Two Gold Medals at the MUNDUS VINI 2019 Competition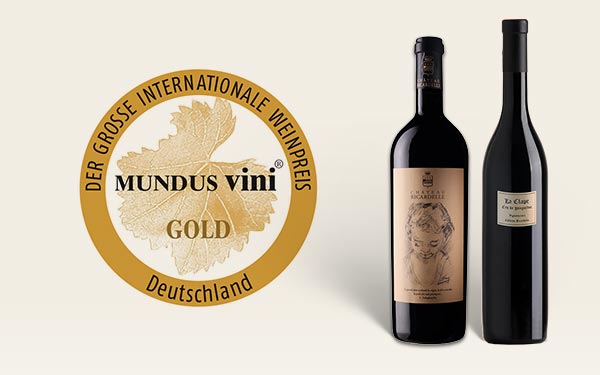 MUNDUS VINI
, the famous International Wine Competition, has just released its prize list for the
2019 edition
. This year, Château Ricardelle is again in the spotlight receiving
TWO GOLD MEDALS
!
This year, are rewarded:
CUVÉE JULIETTE (2016)
Dressed in ebony with purple hues, this vintage once again sings the praises of this immortal vintage…
-> You can consult the card of this wine HERE


VIGNELACROIX ROUGE (2017)
All the intensity and elegance of the terroir La Clape…
-> You can consult the card of this wine HERE


Award-winning wines
260 international wine experts from 5 0countries spent the six days critically judging almost 7,200 wines from 156 wine growing regions all over the world.
About 600 award-winning wines of the MUNDUS VINI Spring Tasting will be presented to the trade audience at the world's largest wine trade fair, the ProWein in Düsseldorf.
The wines with a special award will be honoured on the first day of the trade fair at the high-calibre presentation ceremony, and the certificates presented to the vintners by the Board of MUNDUS VINI in person.